White Crane Business Express Box Lunches
Offering Sandwiches and Salads on Wednesdays, delivered right to your office or home! Our service season is October through May.
We also Cater year-round!
White Crane Business Express Lunches are back in 2021-22!
---
Download/Print Menu Order Form for White Crane Box Lunches
Coming your way in May: Chicken Salad Sandwich, Boom Boom Sandwich (Salami, Pepperoni, Cappicola, Bacon, Provolone), & Bacon Blitz Sandwich; Chicken Taco Salad, Spinich Craisin Salad, & Mandarin Orange Salad!
Sandwiches are $8.00 ea | Salads are $8.00 ea | Cookies are $1.50 ea
White Crane Lunch Menus are always available from Bond County Senior Center by stopping by during business hours or by calling (618) 664-1465 x104.
Please e-mail your order to michelle.stilt@bondseniors.org. Be sure that your business name appears as sender, or in the subject line, or it might be deleted. Fax orders to (618) 664-1478. No fax or e-mail? You may call your order to (618) 664-1465 x104. Either way, we need your order by 12:00PM the Tuesday before you would like to receive your White Crane Business Express Lunch.
Box Lunches Available on Wednesdays (Fall, Winter, Spring)
White Crane Business Express Box Lunches will be available on Wednesdays (Fall, Winter, Spring). Lunch includes a choice of entree salad or sandwich with side salad. Please e-mail or fax your choices to us by 12:00PM on the Tuesday preceding Wednesday delivery. You may choose to enjoy your lunch at the Center, in our dining room; pick it up; or have your lunch delivered by a volunteer who shares your desire to support our programs.
Thank you all for your continued support of Bond County Senior Center's programs through White Crane!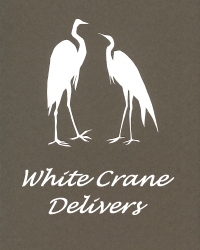 We also Cater Year-Round!
Whether it is a business luncheon and you want box lunches, cookies, or a full event, we have the experience to make your event wonderful! Consider us for your holiday party or office meetings! Please call (618) 664-1465 x108 about White Crane catering your event. Download our Catering Flier!